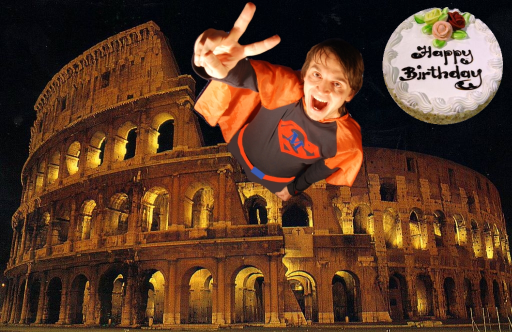 Hi everyone,
this week is special, because last year in this week I completed my story and my website and the first visits began.
On the
Sunday 28th of February
is the official
matteodallosso.org
birthday, the first year!
Yes, one year has gone, an year really deep and rich of emotions and meeting, unforgettable from all points of view!
During the day at work and just outside my company being overwhelmed by calls, mail, forum, dinner, meeting, click
here
if you didn't see my last video just to thank you!
An unforgettable year, really!

Therefore happy birthday to
matteodallosso.org and best wishes to all of you...
I take this opportunity to give you a bit of data. You know... my story has been viewed all around the world, in all countries, such as Peru, Paraguay, Colombia, Brazil, Australia, New Zealand, but also Kasakistan and Kuwait or as China, Japan, Australia and New Zealand, Indonesia, all European, American and finally Canada.

We've really gone around the world!
Just to smile again the average of the longer connection is from
Nicaragua
with 59 minutes. Obviously the higher number of visitors comes from Italy, all regions and so I also rediscovered the geography ... ;-)
... and some more, the most popular search engine world, Google, at the words "Multiple Sclerosis" matteodallosso.org appears in 7th position on 292,000 website, click
here
.
If my story were a musical single, only in Italy, has already won
the gold
record
, it's been downloaded by more than
10,000 people
!
In short, a great satisfaction and it's still nothing compared to the fact that many of your healths improved followed my own way, really no words to describe how I feel now, how I feel when I go sleeping at late night or just wake up at early morning.
Every morning I receive a lot of messages in
Operazione: 1 centimetro alla

V

olta
, (it means
Operation: inch by inch
) click
here
(Italian) and thinking again that a lot of people came back to dream... Well...
it has no price, really!
I hope to meet all of you soon, as it's already happened this winter at
Ascoli Piceno
, click
here
(only Italian).
Well, just follow us, I am sure I will surprise you again, so many projects in mind, because
dreams never end
, and because
we're reaching all of them one by one
...

A hug for

Y

ou...
Now there are
no
more doubts ...

We win...!
Matteo